Who is Sanford?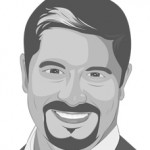 Sanford Dickert (
@sanford
) is an adventurous product technologist with a passion for bringing new technology and business processes to wherever he is. In his varied career, Sanford has held numerous senior positions in Product Development, Technology Development and Engineering.
When describing Sanford, descriptions have included "Product-focused CTO", "Product Expeditor" and "Marketing Technologist" – depending on which coast he is found on.  Sanford primarily works with Fortune 500 firms, leading venture funds and promising start-ups coaching and working with the organization to take risks that they normally are uncomfortable with. His work helps teams better understand and execute on customer-focused solutions through the effective use of technology, performance metrics and product development/marketing techniques.
Intro Demo of the Texai Remote Presence

From 2010, demonstrating the Beam's precursor – the Texai.